Gold-colored smartphones - hot or not?
97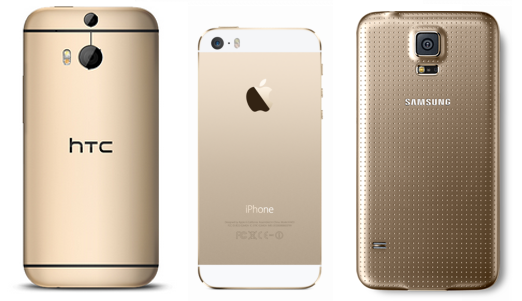 You may have noticed that major smartphone makers recently started to release golden versions of their flagship handsets. Not golden as in plated in gold (although
some of these
exist as well), but just colored in various hues of gold. As you probably know, we have a gold
iPhone 5S
, a gold
LG G2
, a gold
HTC One M8
, and a gold
Samsung Galaxy S5
, among others. And let's not forget that the unannounced
LG G3
seemingly has
a gold variant
, too.
In the past, high-end smartphones colored in gold were pretty rare. But
something
happened lately that determined companies to include gold among the color options of the handsets mentioned above (and not only). Of course, it is true that this color gives the impression of luxury. But you know how the old saying goes:
all that glitters is not gold
. So that's pretty much a false impression after all.
Is this just a temporary trend that will fade away soon? We don't know. But we're curious to find out how many of our readers really dig the gold color when it comes to smartphones. This being said, cast your votes in the poll below, and leave your comments (if you have any) after that.