Godfire: Rise of Prometheus hands-on
3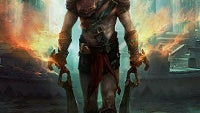 There's nothing like a raw hack and slash game to pass by the time. It's quick, instant, and the action is intense – the kind of elements needed to give a game that slick appeal. Few titles in mobile managed to wow us in the graphics department during PAX East 2014, but we can attest that Godfire: Rise of Prometheus from the developers over at Vivid Games is one of them that got our juices flowing.
In this combat adventure game, we take control of Prometheus, who aims to take control of the mythical object, the Godfire Spark. For anyone familiar with the Greek mythology stories, Vivid Games' take on Prometheus takes us on an interesting path in how he's trying to fulfill his destiny of delivering the Godfire Spark to all humanity.
One of the first things to catch our attention with the game, has to be none other than the spectacular graphics – it's powered by the Unreal 3 Engine. Not surprisingly, the 3D graphics gives the game a lot of presence, since it delivers some outstanding visuals that complement the game play. Every aspect of the game has been visualized to the teeth, so you can expect to see some meticulous and detailed graphics in the characters and environments.
Relying on an exhilarating weapons-based combat system, we control Prometheus by using the on-screen controls to dodge the attacks from our enemies. On the offensive side of things, we can unleash either light or heavy attacks to damage enemies. In order to make contact, though, it requires precise timing to dodge and make those attacks – so there's a huge focus in hitting the controls at the correct moment.
So when can you expect to see Godfire: Rise of Prometheus? Thankfully, it's slated to launch for Android and iOS devices sometime in Q2 2014, so it shouldn't be a long time before it's released. However, it wasn't specifically mentioned if or what kind of price it'll be attached with.