GloveTips make any gloves touchscreen compatible
5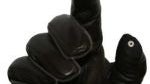 Winter is upon us, and we wouldn't want
the cold
to prevent you from browsing PhoneArena or slinging Angry Birds at pigs. GloveTips might have a solution, making any pair of gloves touchscreen compatible for only US$19.99.
They work by adding conductive, soft, metallic tips to your current gloves. These tips are connected to silver threads, which go inside your glove, and are then attached with conductive fabric pads. That way, whenever your hand is in the glove, the tips can interact with your touchscreen device.
There are obviously other
specialty gloves
which are touchscreen compatible. Unfortunately, most of those gloves are too light for a harsh winter, or they are prohibitively expensive. GloveTips can convert even your most hardcore winter gloves.
Probably the best part about a do-it-yourself kit is that you can place them anywhere. The most standard setup would be one on the primary index finger, and one on each thumb. If your gloves tend to get dirty or wet, you can also place the pads on the knuckles. Because the GloveTips are small in size, they will provide better accuracy than other dedicated glove options.
The kit comes with 3 tips, 3 cloth strips, a pulling needle, and a needle threader. If you purchase them before December 6th, and use the "25intro" promo code, you can also get 25% off your order, as well as free shipping. Stay warm, folks!
source:
GloveTips
via
Gearlog