Global warming takes its toll on the Android Jelly Bean statue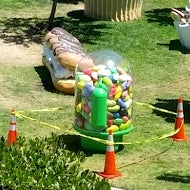 Google has the habit of putting life-size mascots on its lawn each time a new Android version is born, with the name of treats every sweet tooth worldwide is in love with.
Due to the sweltering heat that has plagued the US for a while now, heads had rolled, and the mascot was left without its upper part, not to mention that someone went in and stole one of the candies inside. Google's team is apparently hard at work fixing the damage from global warming, and has coned off the statue in the meantime.