Global LTE carrier support with the iPhone 5s and 5c for Verizon, AT&T, Sprint and T-Mobile
14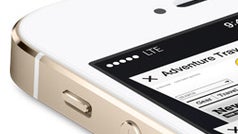 Apple's
iPhone 5s
and
5c
support the most LTE bands of all smartphones at the moment, dethroning the octaband current leader
Xperia Z Ultra
by flaunting up to 13 LTE bands in the case of the Sprint model.
Truly global LTE devices have been a pipe dream so far, with all those competing bands and frequencies. We know Qualcomm made a veritable multiband LTE modem, and probably its variations are what is present on the iPhone 5c and the iPhone 5s, judging from the vast carrier support table Apple put up.
The four model numbers for each of the newly-announced 5s and 5c, come with 7-13 LTE bands support each, depending on the region they will be sold at. The whopping 13 bands are supported by the model that will be sold on Sprint and the Japanese carriers Softbank and KDDI, so if you pick that one unlocked, there is a good chance it will work on most LTE networks worldwide.
Apple promises in the fine print that "
unlocked iPhone 5C, iPhone 5S and iPhone 5 models may support LTE networks outside the country of purchase when using a valid SIM from a supported carrier
," so Sprint iPhone users are in luck, but the 11-band 5s and 5c models on AT&T, Verizon and T-Mobile are not far behind either.
The thing is that the unlocked iPhones sold officially will be of the A1533/A1532 models meant for Verizon/AT&T/T-Mobile, whereas the A1453/A1456 Sprint versions will be tied to the carrier, as those are only sold with a 2-year contract. If you are in good standing with Sprint, you can ask it to unlock the handset for you after three months in, though if you are fresh customer without credit history that might rise up to 18 months of continuous good standing.
Even if you can get a hold on the Sprint model unlocked, or the one for the other major carriers, it will indeed work with most European/Asian LTE networks, save for band 7 (2600 MHz) of the typical European bands 3, 7 and 20 subset, which is also used in Asia, Australia and New Zealand. This means you will have spotty LTE coverage even with a Sprint model if you travel to a region where the carrier uses band 7. Tough luck, but still a great leap in compatibility improvement from the iPhone 5, and certainly leagues ahead of the LTE compatibility with other smartphones.