Give your smartphone The Feinger and never drop it again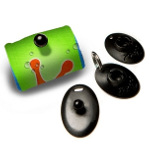 Want to make sure that your smartphone
never drops on the floor again
while you are using it? The answer is as simple as
giving your phone The Feinger
. No, we are not suggesting that you flick off your device or give it the bird. The Feinger is an ingenious little product that attaches to the back of your handset via a small nipple. At the other end is an elastic neoprene sleeve that holds on tight to your finger and prevents the phone from falling.
some accessories available like a lanyard and a purse/pocket attachment
. The cost of The Feinger is $14.95 and additional Feinger sleeves cost $5.95 while extra mounts cost $4.95 for a package of 4. A Megapack is available for $29.95. Apparently only pre-orders are being taken at this point and $5 of each pre-order is going to the WISH-TV 8 Tornado Relief Fund for those in Southern Indiana affected by the recent storms.
The web site is still in the midst of being polished up and needs some work, but the jingle is catchy. If you want to save your smartphone from destruction, go ahead and give it The Feinger. You can send in your pre-order by clicking on the sourcelink.
source:
TheFeinger
via
Phandroid