Gingerbread now available for HTC ThunderBolt
62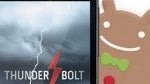 HTC ThunderBolt users can now rejoice as Verizon has just posted the download instructions for bringing
Android 2.3 Gingerbread
and all of the wonderful improvements that come with it to your device.
Ever since day one, when the HTC ThunderBolt was released to the masses packing the dated Android 2.2 Froyo operating system, everybody wondered when the first LTE handset to hit the states would be getting the modern treatment that it deserves. Well ladies and gentlemen, that day is today, finally.
Verizon wants you to "get the most out of your ThunderBolt by HTC." The PDF posted by Verizon shows all of the improvements that Thunderbolt users can expect to see when their device is updated. Here are the enhancements found in this update:
-
Download Manager App
: New App to manage all of your downloads from web browsing, email attachments and other apps.
-
App and Power Management Details
: Under Manage Applications, a new "Running" tab displays a list of active applications and the storage and memory being used by each. Power efficiency mode option has also been added under Settings > Power.
-
New Desktop User Interface
: New widgets, icons and screens with refreshed colors.
-
Dock Icons
: Static Phone, App Launcher and Contacts icons are replaced within a customizable dock. Three swappable icons and the App Launcher icon are fixed to the Dock at the bottom of all home screen panels for easy and instant access.
All of this is only the tip of the iceberg as Android 2.3 Gingerbread delivers a bunch of other improvements to the HTC ThunderBolt. If you want to get the update and give your ThunderBolt the treatment it deserves then check out the link and enjoy.
Source:
Verizon