Ginger keyboard for iOS and Android sports app launcher, proofreading, and emojis galore
7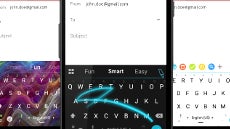 The third-party Ginger keyboard for Android and iOS already had a laundry list of features, such as a grammar checker, sentence rephraser, translation, dictionary, text reader, swipe typing and personal trainer - quite the large list - but it was recently updated with more.
Ginger prides itself with offering on-the-go proofreading and correction, and now you can play a quick game or read some news while you are waiting for the text or chat reply, all from the comfort of your virtual keyboard. Not only that, but Ginger also lets you run apps directly from the keyboard's top row, and floats on top of them when they launch, never skipping a typing beat.
The pride and joy of Ginger, however, is the trendy emoji set, offering you a dedicated key to launch sheets upon sheets of tiny emoticons, which these days are used be more and more people to express emotions in the otherwise dry world of virtual conversations. Take Ginger for spin from the source links below, if the abovementioned features have piqued your interest.