Gigantic 12-foot tall Microsoft Surface 2 tablet appears in central London
27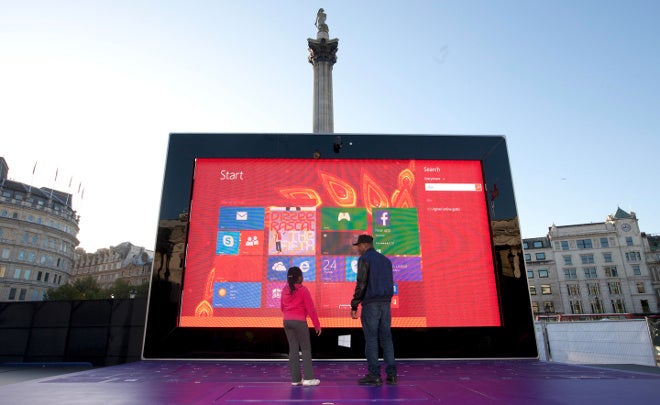 Here is a neat way for everyone to notice your product - erect a giant statue of it in one of the world's largest cities. That's exactly what Microsoft just did with its Surface 2. The company has built a true giant, a 17-foot tall and 27-foot wide monument to its Surface 2 tablet complete with a purple Type Cover 2 you can actually step on and type with. This perk is mostly for school kids nearby who get to play alphabet games on the giant keyboard and screen. But hey if you happen to be around you can probably easily jump on those keys to fire up the browser and open PhoneArena.com, we guess!
Curious how large that screen is? How about 383 inches in diagonal. That's about 36 times larger than the actual Surface 2 tablet.
The whole instalment stands tall at London's historic Trafalgar square and was built in just 12 hours. The impressive new landmark is a great marketing trick, but what's even better is that the giant screen is controlled by a single Surface tablet. Microsoft employees are of course wandering around with blue shirts and equipped with tablets to show interested passers-by.
Hey, and we already know Microsoft has an affinity for things tall and large like its gigantic Windows Phone or its earlier giant events with DJ deadmau5. Now, it's just right in the center of London city, not bad for marketing, is it?
source:
The Next Web
Image courtesy of David Parry/PA Wire.