Get fast file transfer between your phones and computers with the Infinit app for iOS and Android
11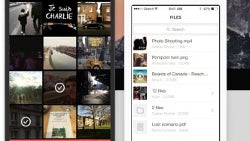 Unlimited file size and type? Check. Up to 30x faster than using a cloud storage service for sharing? Check. Full-res photos and HD video, without any compression? Yep, that's exactly what the new file transfer app by Infinit is offering to Android and iOS users.
Infinit boasts of having the fastest speeds of any files transfer app, thanks to a proprietary peer-to-peer technology, but the greatest thing about the app might actually be the ability to share stuff between your phones and your computer or a tablet.
If they are all connected to one Wi-fi network, for example, you can send a 2 GB movie for less than 10 minutes, which might finally do away with the need for a cable connection. In addition, the file transfers of your media or documents are safe from prying eyes, too, while traveling from one direction to another.