Get a Lumia 520 and 12-month Xbox Music Pass for $99, only in the USA
15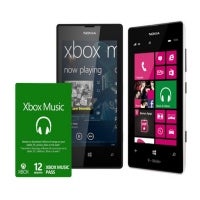 Microsoft has an offer that anybodyhunting for a budget-conscious smartphone must consider. BetweenFebruary 3rd and 17th, residents of the US and Puerto Rico can pickup a Lumia 520 (on AT&T) or 521 (on T-Mobile)phone, bundled with a 12-month Xbox Music Pass for $99. As both itemscost $99 separately, shaving half off their combined price means youhave a fantastic deal on your hands.
At $99, the Lumia 520/521 is one of thebest, if not the single best choice for a smartphone on a budget. Wetend to abstain from strict opinions, but we know our stuff, andwe're certain - no matter what wizardry you try, you won't getAndroid to run as smoothlyon $99 hardware as Windows Phone 8 does. Besides, with its dual-coreCPU, 512MB RAM (adequate for WP8), 4-inch IPS display, and a sturdyNokia build, this little gem can get you pretty far.
When we reviewed the 520 last year, weagreed that it offers good value for the money, even though it costedabout a hundred dollars more at launch. Now, at a sub-$100 price, andbundled with a 30-million-songs music service, this phone's a steal.It's no wonder that the Lumia 520 is the second most-used WindowsPhone handset in the states, and very popular in emerging markets.
source: Microsoft