Gesundheit! is a puzzle game about monsters, a piggie, and... snot
1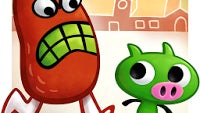 Nope, "Gesundheit!" is not a fancy kind of German sausage. It is not a brand of lager either. Actually, that's what German-speaking folks say when someone sneezes – the equivalent of "Bless you!". The expression also happens to be the name of a really cute puzzle game, which you should try on your iOS or Android device.
In Gesundheit, you play as a poor little green piggy with a runny nose. Runny noses aren't fun, of course – they make us sneeze. The game's porky protagonist, however, uses that to its advantage. You see, every level is populated by monsters, and these monsters don't like our piggy friend very much. But they do like its snot for some reason – they like it so much that if the piggy spits it out, the monster will go and eat it. (We're not making this up.) This is how you move monsters around and prevent them from attacking you. Snot is also used for interacting with other objects, such as buttons.
Overall, the game is pretty fun. It starts off easily, as it should, so that the player gets used to its mechanics. But while the first few puzzles are stupid simple, the later ones can be quite challenging. But don't worry. The special abilities that you gain along the way will give you a boost. Also, we love the graphics of Gesundheit. The game is drawn like a classic cartoon and has this heart-warming old-school feel to it.
If you own an Android device, you'll be able to give Gesundheit a try for free. Unlocking the complete set of levels, however, and there's over 40 of them, will cost you a few bucks. The iOS version of the game is available for $0.99, with bonus levels available as in-app purchases.