Genachowski: U.S. can't afford to sit back and relax when it comes to LTE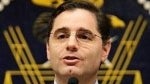 Former FCC Chairman Julius Genachowski might no longer be the top man on the totem pole at the Federal agency that controls wireless communications in the states, but that doesn't mean he can't utter his opinion about the state of the industry. Actually, Genachowski is a little concerned that the U.S. might be
too relaxed
when it comes to LTE. He warned the U.S. that just because it currently has the lead in "
key broadband metrics,
" such a lead is not set in stone.
Genachowski reminded the audience at the FT-Telefonica Millennials Summit in London that the U.S. also had the early lead in 3G until it lost to European countries. He pointed out that while the U.S. is in strong shape, the European countries need to just get on the same page with each other in order to get widespread LTE coverage on the continent.
"
The US has regained global leadership in key broadband metrics. We need to remember that the US was ahead in 3G before it was behind in 3G, so in this new world it's dangerous to think that because of any country having a lead it's then set in stone – it's not
."
"
We are right in the middle of a global bandwidth race – every country is trying to find its strategic bandwidth advantage. The US is in strong shape but in order to continue its current trajectory, it needs to recognise there is a lot of work to do and that competitive global dynamics will only speed up
."-Julius Genachowski, former FCC chairman
source:
AndroidAuthority