Garmin announces its exit from the phone biz
3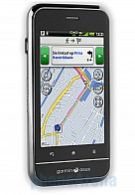 To put it in perspective, Garmin did $27 million in sales in Spring while Apple did $5.33 billion. While $27 million might sound like a lot, its not enough to stay competitive in this business. For that reason, Garmin's CFO Kevin Rauckman announced that they would shut down their phone division if things didn't improve in the next six months.
While Rauckman did say they might consider redoubling their efforts, it seems more likely that they will accept defeat. It doesn't take an experienced market analyst to tell you that Garmin is an unnecessary member of the smartphone community. If they had arrived earlier, when GPS navigation was uncommon on phones, perhaps they could have made a better name for themselves.
While the
Garmin-Asus nuvifone
was meant to be released in 2008, it was pushed back to 2009, and then eclipsed by the iPhone's integration of turn-by-turn navigation. More recently, their
Garmin-Asus Garminfone
released with Android 1.6, while its competitors were already shipping Android
2.1
.
Their smartphone efforts haven't been the only ones to suffer. Their dedicated GPS units have also been hurt by the ubiquity of GPS apps on smartphones today. Garmin estimates that they have lost 10 million GPS unit sales this year to people increasingly relying on their phones' improving navigational services.
source:
Electronista