Games for quad-core gadgets are in, NVIDIA Kal-El still isn't
6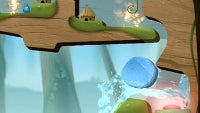 The first game that is optimized for not one, not two, but four sweet CPU cores has appeared in NVIDIA's Tegra Zone. It is a water physics game called Sprinkle, and the goal is to douse fires before the H2O liquid runs out. The reason it's chosen for a quad-core poster child is probably since liquids and all their light reflections require a lot of processing horsepower in games.
When played on dual-core NVIDIA Tegra 2 tablets, one core takes care of the physics, the other of the gameplay, adding to the addictive factor, but when the quad-core NVIDIA Kal-El tablets land, it will be beautified even further with shadows, lighting and reflections that will do a water physics game the justice it deserves.
This is actually the third quad-core-optimized game, after the medieval strategy NVIDIA showed when demonstrating project Kal-El, and Shadowgun, which was announced in May before E3, which is listed on developer's Madfinger website as coming soon. Sprinkle is $1.99 on Tegra Zone, and when the
promised for October NVIDIA Kal-El tablets
hit, you are likely to have even more fun with it.
NVIDIA launched the Tegra Zone web portal the other day
, so hopefully the quad-core days are near.
via
PCMag