Game Genome Project for Android makes game discovery easy peasy
4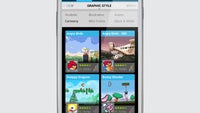 The Google Play store is full of great video games, but finding the ones that best fit your personal preference is much easier said than done. The folks behind the Game Genome Project are well aware of that and are working on solving the issue once and for all.
Their solution is a new
video game discovery tool that suggests titles based on traits that users specify
instead of prioritizing their rating or number of downloads. A fast-paced, space shooter with swipe controls? No problem. A zombie-themed 3D action game with tilt controls? It can be found in an instant. And if you have a personal favorite video game genre, just save your preferred combination of traits and the software will automatically inform you of any newly-published titles that match your taste.
This new game discovery tool will be part of the Best Apps Market, which is a well-known application for finding the best software available on the Play store. You'll have to wait until October to download it, however, but in the meantime, you can check out the Game Genome Project web page and see for yourself how it works.