New certifications for the Samsung Galaxy Tab S4 hint at upcoming release
23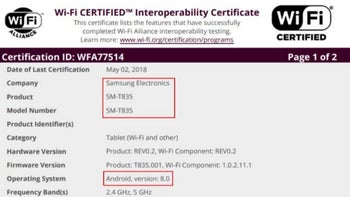 Back in February, we covered
benchmarks
that many believed meant that the new Samsung Galaxy Tab S4 would be announced at Mobile World Congress 2018. Clearly, that did not happen. However, the device has recently been spotted over at Wi-Fi Alliance for certification. The new information shows Android Oreo on board (no surprise there). There are also rumors that the firmware for both the LTE and Wi-Fi models is in development. The speculation is that it may be announced at IFA 2018. Samsung has announced previous tablets here, such as the Galaxy Tab Active, and this sort of news shows it is approaching release.
Expectations
As we reported before, the Tab S4 is still expected to have a Snapdragon 835, 4GB RAM and 64GB storage. It will also pack a 2560 x 1600 resolution display and come in at 10.5 inches. There has been some speculation that it may have the Infinity Display, but there is something to be said for bezels on a device that requires two hands. we also reported that the camera selection will be just as high-end, with a 12MP sensor on the rear and 8MP on the front. LTE connectivity shows there will be a sim-enabled version as well.
Tablet sales
have been dropping and Samsung is always looking to steal more of the market share from Apple's iPad. It is likely the company is taking its time on this one. It will be important to get things right and have a device that will drive sales through the holiday season. Expect to hear more about this flagship device between now and the end of summer.