Galaxy S6 tops 'real life' speed tests against other flagships and the Zenfone 2
99+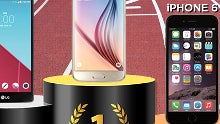 From video editing, through Wi-Fi speeds, to camera app start and synthetic benchmarks - the current season flagships have been put to the test, and there can only be one topping the charts. Can you guess which one? Why, the beast with the 14nm Exynos 7420 chipset, of course, Samsung's
Galaxy S6
. Out of nine tests in total, it ranked first in six of them, and second in two, while taking a third place only in one.
The Galaxy S6 might have obliterated both the synthetic and the "real life" tests below, with runner-ups the LG G4 and iPhone 6, but the biggest surprise is perhaps the humble $300
Asus Zenfone 2
with its Intel Atom processing power. It might be ranking towards the bottom of the spectrum in synthetic benchmarks, but in things that actually affect your everyday interaction, like app and camera load times, it is sitting comfortable in the middle, leaving phones like the
One M9
and
Nexus 6
behind it. Granted, we are talking the
Zenfone 2 model with 4 GB of RAM
here, but still. Take a look at the results below, and tell us which one would you pick.