Galaxy S6 & edge owners beware, Samsung's Clear View case scratches screens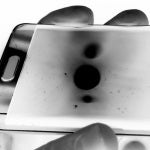 In a case of twisted irony, it seems the easiest way to grossly scratch your new Galaxy S6 / S6 edge's display is getting the official Samsung Clear View case. Users over at the XDA board have identified an issue with dirt and debris lodging itself between the front cover and the device's display. Horizontal movements of the front cover, which occur naturally as you carry it around, grind the abrasive materials against the glass, thus scratching it in various unsightly patterns. This chain of events becomes particularly gruesome as the case's front flap presses against the phone as it's squeezed from inside the pocket. Both the screen and the home button's glass covers are affected.
The original thread at XDA, where users post photos and voice their complaints, is already 6 pages thick with content, which means the issue is serious. If you own the Clear View case, there's a high probability of it scratching your Galaxy S6 or edge's display eventually, unless you applied a
screen protector
. If you don't, you should probably hold off on buying the $60 case and opt for a different product. Meanwhile, Samsung is yet to make an official statement on the issue. Affected users have been turning to customer support in their respective countries, with various degrees of success.