Galaxy S4 to Galaxy S7: a camera comparison spanning 4 generations of Samsung smartphones
43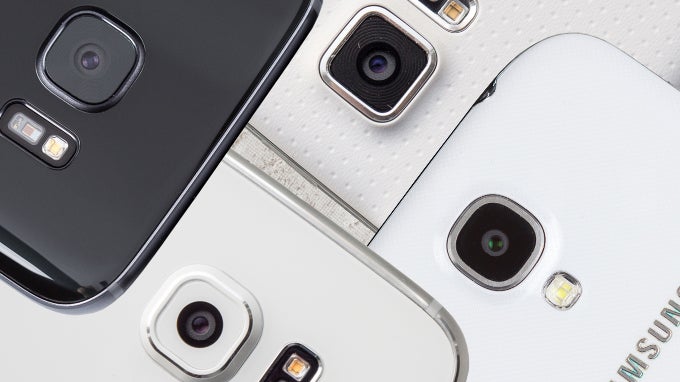 It's no secret that Samsung's flagships have some of the best cameras around. For years now, Sammy has vied to push the boundaries of smartphone photography further and further and has definitely earned itself the reputation for stellar photo quality.
One could mark the start of the company's more serious push for camera improvements with the Galaxy S5's release. The phone featured a fresh technology in its sensor, called ISOCELL — basically, individual pixels are separated by tiny walls, which reduce cross-talk, which means sharper details and less color bleed. The Galaxy S6 improved upon this by adding an optical image stabilization (OIS) module in the mix, for less shaky cam and easier night shots. The S7 improved the phase detection autofocus system even further, now called Dual Pixels.
But, of course, we can talk about specs and generations of tech all day, but what does any of this mean in terms of actual photos? Let's cut the talk about pixels and look at some actual images!
Here's just a quick table of how the Galaxy S cameras have evolved specs-wise for the past 4 generations:
| | | | | |
| --- | --- | --- | --- | --- |
| | Galaxy S4 | Galaxy S5 | Galaxy S6 | Galaxy S7 |
| Resolution | 13 MP | 16 MP | 16 MP | 12 MP |
| Pixel size | 1.14 μm | 1.14 μm | 1.14 μm | 1.4 μm |
| Aperture | F2.2 | F2.2 | F1.9 | F1.7 |
| OIS | - | - | Yes | Yes |
| Sensor size | 1/3.06" | 1/2.6" | 1/2.6" | 1/2.5" |
So, what were the major changes here? The Galaxy S5 now has a higher-res sensor, as seen in the table above, and its size grew a little accommodate them, but not proportionally. As a result, its individual pixels became just slightly smaller, which should impact the camera's speed in collecting light but not by a noticeable margin, considering the 0.02 μm difference. Well, at least that's what we assume when looking at the specs on paper.
In reality, we were surprised to find that it's much harder for us to take a non-blurry shot with the Galaxy S5 than it is with the Galaxy S4. Both of these phones don't have an OIS module, mind you, and we were taking extra care to hold them as still as possible. Of course, there's probably much more at work here that impacts camera performance than the ever-so-slightly smaller pixels on the S5.
When you look at the shots we took, it's hard to define a clear winner. By today's standards, both cameras are mediocre performers and both produce very similar results. The one thing that surprised us is the bokeh effect (background blur) that's much more prominent with the Galaxy S5. And that's nice, sure, but image quality between the S4 and S5 is easily comparable. Sometimes the S4 adds some more noise, but at other times, the S5 just smudges up details.
Once we take the devices indoors, performance drops for both, as details are lost, and it's hard to take a non-blurry photo, due to both devices needing slower shutter speeds to capture enough light. The S5 has more vibrant and lively colors for sure, which is an obvious step above the Galaxy S4, but it's still not enough to compete with today's standards.
2015's Galaxy S6 further evolved the camera with a mechanical optical image stabilizer and a wider lens aperture of F1.9. On paper, this should mean less "shaky hands" effect in photos, making it especially easier to take photos in darker environments, and a shallower depth of field (more prominent "bokeh", a more visible distance between the object in focus and background, etc.).

And in reality? Well, we have to say the difference in detail between the Galaxy S5 and Galaxy S6 is quite noticeable. The latter is easily superior in every battle we pit both phones in. The S6 handles dynamic scenes better, always comes up with better, sharper detail, and has its focus on point much more often than the Galaxy S5.
Indoors, the wider aperture lets more light in and the optical image stabilizer makes it much easier to take a non-blurry image. We found ourselves re-doing shots on much rarer occasions with the S6, which is definitely an important point when it comes to actual usability and positive experience with the camera. Indoor images have a lively quality and fine details that just can't be found on the Galaxy S5.
And now we arrive at the final step of Sammy's camera evolution thus far. The Galaxy S7 dialed the camera resolution down, from 16 MP to 12 MP, but don't panic — image quality is not all about the megapixels. The lower count of individual pixels meant that they could be a bit bigger, stretching from 1.12 μm to a rather impressive (for a smartphone) 1.4 μm. To repeat ourselves — bigger pixels means faster, more efficient light collection, ergo we get faster shutter speeds and less noise, which allows for finer details to shine through.

Moving on to the photos, you can see the performance of both cameras is easily comparable. Sometimes, one might say, the Galaxy S7's camera produces colors that are a bit more natural and mature, but that's not consistent. Both snappers perform equally well outdoors and you'd be happy with any of the two cameras. Indoor performance is once again improved, with more natural colors and finer, sharper details present in each shot. When the light is less-than-ideal, we'd say the Galaxy S7 really manages to outshine the S6, if only by just a bit.

If there is a huge difference to be pointed out, it's in the ease of use of the camera. The Galaxy S7's "Dual Pixels" autofocus technology is blazing fast and can really spoil the user. Its shallow depth of field, due to the F1.7 aperture, also unlocks some more creative potential with bokeh and focus play, and makes the shooting experience that much more fun.
Conclusion and full gallery

While each generation has something better than the one before it, we feel it's safe to say that the most important jump in Sammy's cameras over the past 4 generations was the one made between the Galaxy S5 and Galaxy S6. The OIS module, the wider aperture, and the new software all make a pretty huge difference in image quality and in overall user experience. So, while users that upgraded from the S4 to the S5 probably didn't feel much of a performance bump in the camera department, anyone switching from an S5 to a next generation Samsung smartphone will have a pretty great time with their new camera.

Now, the S7's camera is better than the one on the S6, but only by a margin. We'd say that the Galaxy S6 is pretty consistent at capturing amazing scenery and its camera easily ranks among the best even today, a year and a half after its release. Of course, the S7 has a few advantages, like better low light performance, but it's hardly a dramatic improvement.

Now, we are anxious to see what the Galaxy S8 brings about. Could it make the same jump in quality that we witnessed between the S5 and S6?
Recommended Stories