Which one would you get: Galaxy Note 10 or Galaxy Note 10+?
21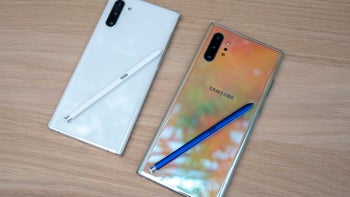 The Samsung Galaxy Note 10 duo has just dropped and that's one hot pair of devices! The regular Note 10 brings the S Pen experience in a super-compact package, giving fans of small-ish phones something they've been craving for years. The Note 10 is just a smidgen bigger than the Galaxy S10, but still has a generous 6.3-inch display, which will make it a very balanced and ergonomical device.
However, it has some drawbacks — no microSD card slot, a 1080p screen, and it lacks the depth camera that its bigger sibling sports.
The Note 10+ is as big as last year's Note 9 but manages to squeeze in a bigger, 6.8-inch display thanks to its smaller bezels. It comes with a second storage tier — 512 GB — and offers an expansion slot for microSD cards of up to 2 TB. It has a QHD+ (2440 x 3040) screen, and a special DepthVision camera to assist in Augmented Reality and Portrait Mode.
So, price aside, which one of these two would you like to get? The compact
Note 10
or the super-charged
Note 10+
?