Galaxy Nexus gets Jelly Bean Transformation Pack
12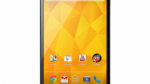 Just in case you can't wait the week or two that's left until the real Android 4.2 Jelly Bean update gets pushed out to existing Nexus devices, the XDA developer crew has just the thing for you. If you've got a Samsung Galaxy Nexus, you can now download a Jelly Bean Transformation Pack, which adds a number of the cool new features of 4.2 to your existing ROM.
The Transformation Pack comes in the form of a flashable ZIP, and will add:
Camera with PhotoSphere
Gallery
Stopwatch/Clock
Nexus 4 Sounds
App Install (Phonesky.apk)
Launcher With Wallpapers
Gmail
Google Ears
Nexus 4 Lockscreen
Android 4.2 Google Now and Play Store
That's a pretty solid set of features, of course not all are exactly new. Google Ears does exist in Android 4.1, it just isn't a standalone app. In Android 4.1, it's just a widget. Still, it would be cool to get the new
sideload malware scanner
that's part of Google Play, and the
pinch to zoom in Gmail
. Of course, given that the Nexus 4 is launching in less than a week, we'd assume the Android 4.2 update will come to Nexus devices soon enough, so this option is really only for the obsessive fiddlers.
As always, flash the ZIP only if you have a rooted Galaxy Nexus and are comfortable with ClockworkMod Recovery, and the possibility that you could bork your phone if you do something wrong.