Galaxy Nexus front camera is capable of 720p video
16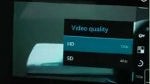 We're not sure why there has been no news of this, but apparently the Galaxy Nexus is capable of capturing 720p video from its front-facing camera, at least according to a new video posted on YouTube from a Nexus owner in the UK.
Sam Pullen, a blogger from Yorkshire, posted a video tour of all the new features in the camera app of Ice Cream Sandwich today. We've seen a lot of the new features including panorama, and the various
video effects available
, but Sam's video also had a surprise in store for us. When recording video using the front-facing camera on the Nexus, there is an option to switch between SD and HD capture.
The camera is 1.3 MP, so its resolution is 1280x1024, just over the threshold for 720p video, but the ICS software makes it work. Theoretically, for this option to be available, your device will need at least a 1.3 MP front camera. Sam also posted a test video of HD capture with the front camera. It was a bit fuzzy for HD, but it is certainly impressive, and may make video chat a bit nicer.
The option to switch to HD capture is around the 3:30 mark of the first video, and the second shows Sam's test of the recording capabilities of the front camera.