GV Mobile+ arrives in the iTunes Store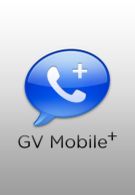 After a significant delay of supposed review, GV Mobile+ is finally available from the iTunes Store. The app costs a more-than-fair $2.99, and is available immediately. Don't worry if it doesn't load immediately, it is in the midst of being loaded to all of their servers.
The beloved app, by developer Sean Kovacs, allows the user to make phone calls, read/listen to voicemail, and send text messages. After being yanked from the iTunes Store along with other third-party apps, GV Mobile+ returns as
Apple's app guidelines
have softened. Rumor suggests that the relaxation in requirements comes as a response to competition from Android, which provides a far more developer-friendly platform.
When the app was initially removed (incurring the wrath of many users), AT&T claimed they had nothing to do with the move. Logic would suggest that they might have supported blocking the app because it reduced the user's dependence on the network for voice calls and text messages. Apple's 2-part reasoning for its removal was as follows:
1) "[Google Voice] appears to alter the iPhone's distinctive user experience by replacing the iPhone's core mobile telephone functionality and Apple user interface with its own user interface for telephone calls, text messaging, and voicemail."
2) "The iPhone user's entire Contacts database is transferred to Google's servers, and we have yet to obtain any assurances from Google that this data will only be used in appropriate ways. These factors present several new issues and questions to us that we are still pondering at this time."
source:
iTunes Store
via
Boy Genius Report