GPS fix is coming along with the latest software update for the Samsung Captivate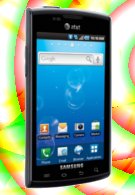 Even though it's still hard to say how many owners are being adversely affected by the GPS issue with the Samsung Captivate, it looks as though that it'll soon be resolved for them – while other variants patiently wait in the bushes for their turn. Samsung came out today and announced that Captivate owners will be receiving a dose of fixing with an upcoming software update for the handset.
Their official statement went like this:
"An update to improve the Samsung Captivate's GPS performance is now available. Captivate customers will receive a notification on their device that an update is available and will simply need to download the file to update their phone. The updates will be pushed to customers' devices over the next few weeks.
The update for the Captivate will also improve additional device functions, such as media scanning time, add the full version of Quickoffice and address Microsoft Exchange 2003 policy support."
For those who even have the slightest suspicion that it's going to be Froyo, you'll be sorely disappointed that it's not – especially when we've been seeing another
high-end handset getting it recently
.
Samsung Captivate Specifications
|
Review
source:
Engadget