VIDEO: Motorola DROID X Android 2.2 update is now live!
38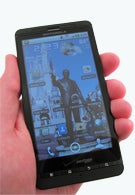 Earlier today
we reported
that a rumor was going around that the
Motorola DROID X
was about the get the Android 2.2 update sometime soon. Now, Verizon has officially announced to us stating they "will begin pushing Android 2.2, Froyo, to the DROID X by Motorola tomorrow. Customers do not have to wait for the over the air push, they can obtain the official update via the device itself by following these steps: Menu > Settings > About Phone > System Updates. For more information and step-by-step instructions please visit
here
." This is good news to all the DROID X user out there, as you may recall when the product launched it was said that the device would get Froyo by late summer, which is now, as Fall officially begins this week. Be sure to check out the source link below for all the software enhancements the DROID X will get.
*
UPDATE 9/22/10
*
The Android 2.2 update is now live and can be installed on your DROID X by clicking on the System Updates in the About Phone menu. The download is 67MB. Let us know what you think of the update once you get it installed!
*
UPDATE 9/23/10
*
Our Motorola DROID X is now up and running with Android 2.2. Check out the video for the steps to update your DROID X and what some of the new features are.
One NEW feature that is undocumented with the 2.2 update for the DROID X is that
720p videos are now recorded at 30FPS and with Stereo Sound
, where before it was limited to 23-24FPS and with Mono Sound.
Source:
Verizon Wireless
Motorola DROID X Review
|
Specifications