GPS-based security coming to the BlackBerry OS?
This article contains unofficial information.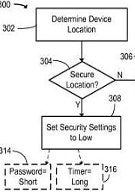 It's all happened to us at some point, but sometimes you just forget to place your phone on silent mode at a meeting – then it starts to ring; making you the center of attention with closely watched eyes. Yes, you're placed in an awkward situation and probably would've liked to go back in time to change all the events. Well if you own a BlackBerry, you soon may not have to ever worry of such a thing again. Based on a patent application named "Computing Device with Environment Aware Features" filed with the US Patent and Trademark Office, RIM may plan on offering GPS-based security on your handset. For example, your BlackBerry will automatically set itself to silent mode within specified secured locations – which of course will be detected by GPS. When you leave an area, your handset's security profile will then be toned down – so ringtones and vibrations will automatically kick in when calls are received. We'd gather that there would be a need for this kind of service from a business perspective, but there's no concrete information if this will ultimately makes its way onto the BlackBerry OS.
source:
GoRumors
via
IntoMobile