GEICO's Gecko sports a BlacBerry Curve in their latest advertisement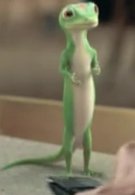 There are commercials that are tastefully humorous, but then again, there are ones that are memorable and long lasting due primarily to their charismatic presentation in enchanting viewers. GEICO's set of commercials have long been a staple on television, but there is no arguing that the gecko has seemingly become the leading star in their advertisements.
The latest commercial spot actually takes a peek into the nifty handset the little green gecko is carrying around with him, although it's anyone's guess where he stores it, but it appears that BlackBerry is the way to go for this feisty one. If you look closely, it looks like we see the distinct styling of either a BlackBerry Curve 8520 or 8530. It's hard to say which one it actually is, but it goes to show that even the GEICO gecko has a thing for RIM's products.
RIM BlackBerry Curve 8520 Specifications
|
Review
RIM BlackBerry Curve 8530 Specifications
|
Review
via
CrackBerry