Fuzzy video of the Samsung i8700 show it in action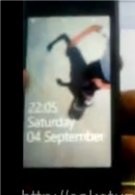 We've already been treated to a coupleof decent looking shots of the Samsung i8700 only a few days ago, butnow we find it center stage in a video that unfortunately is a bitout of focus – which sadly doesn't do justice for this betterlooking Windows Phone 7 device from the Korean manufacturer.
Sure weget to see the phone in action, much like other Windows Phone 7handsets floating around right now, but it still doesn't provide anynew details regarding its specs. Though, we can only speculate it tohit the minimum requirements that the platform requires.Nevertheless, the only concrete items we can infer from the previousleaked photos and this video is that the handset will pack 8GB ofinternal storage, a camera with LED flash, and Bluetooth 2.1.
In themean time, you can enjoy watching this handset in action if you'dlike, but don't expect it to really show off its exterior since it'srather fuzzy looking.
via Samsung Hub
Windows Phone 7 by Samsung - GT -i8700
Uploaded by wapcamer. - Videos of the latest science discoveries and tech.