Future iPhones may come with a new breed of anti-theft measures
11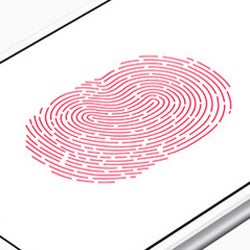 Future Apple devices with fingerprint scanners and cameras may employ a new method for dealing with potential abductors, and when we say abductors, we actually mean unscrupulous gadget thieves. It's a terrible feeling, this – realizing that your cool high-tech toy has been stolen. An endless stream of questions enters begins tormenting your racing mind: who did it? What can they do with it? Should I change all my passwords? Is there any hope of ever finding the device? The struggle is real.
Okay, that might have been a bit of an exaggeration on our part, but it's totally an uncool position to be in. Trust us. Anyway, there are various things you can do if your smartphone is stolen (or lost, for that matter), and we'd advice to take a good look at all of them, in case you find yourself in such an unenviable position. Links down below.
Apple is now looking at adding another possible course of action to the mix, by securing a patent that could result in future iDevices storing biometric information and other data of unauthorized users. In other words, next iterations of the iPhone and iPad may store fingerprint data and attempt to snap a picture of the user with the front-facing camera, in case their biometric credentials are not recognized.
Apple was granted the patent, initially filed in late April, by the U.S. Patent and Trademark Office (USPTO) earlier on Thursday. The abstract of the patent goes over some of the data that may be collected by the security system, should it be implemented in the first place, which includes
"one or more fingerprints, one or more images of a current user of the computing device, video of the current user, audio of the environment of the computing device, forensic interface use information"
and so on.
Said data will likely be initially stored locally on the device itself, and sent to remote servers for further evaluation, when the device is connected to the Internet. The patent documentation states that once delivered to the servers, the biometric data may then pass various procedures for cross-referencing it with an already existing database of information for existing users.
With all that said, don't hold your breath that this year's iPhone will implement this technology, or next year's for that matter. Or maybe even next next year's. One such proactive security system would fall into a legal gray area, as far as current anti-theft measures go, and would call for a considerable amount of deliberation before its implementation is allowed. Furthermore, even if it is eventually allowed, it might have to undergo drastic changes in order to fit within the established regulatory measures.
source:
USPTO
via
AppleInsider