Future Samsung smartwatch could use your veins for identity verification
21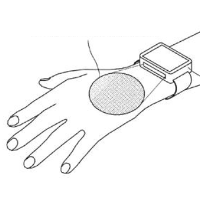 Imagine this. You strap to your wrist Samsung's latest smartwatch, and your identity is quickly verified by your veins. This technology could be available sooner than you might think. Samsung has filed a patent with the USPTO for a method by which a smartwatch user's veins are used to authenticate the identity of the person wearing the device.
The watch would first take an initial reading of the vein, and use it to compare to future images. Infrared technology could be employed to capture the images of the veins. If a smartwatch is being used like a key to open a car door or a hotel room, the technology featured in the patent filing could be used to verify one's identity. It also could be used to authenticate a mobile payment, replacing the currently used fingerprint sensor or password sign-in.
"A wearable device comprising: a sensor configured to capture a vein image of a user; and a processor configured to: in response to a function or an application being selected by the user, control the sensor to capture the vein image of the user wearing the wearable device; identify the user by comparing the captured vein image with at least one registered vein image; and in response to determining that the identified user has an execution authority for the selected function or application, execute the function or the application."-Samsung patent filing
The patent, titled "Wearable Device And Method Of Operating The Same," was originally filed in July of last year. If the technology is as impressive as hoped, it could lead to the future use of heart beats as a way to verify identification.
source:
USPTO
via
FastCompany
,
Phandroid