Future Asus Zenfones might swap Intel Atom for a Qualcomm chipset, says CEO
36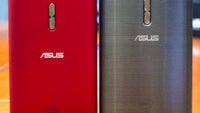 Moreover, he said, Asus will start naming its phones in a generational convention, i.e. Zenfone 3 will follow Zenfone 2, and so on, instead of according to screen size, which is now causing a whole lot of confusion. Furthermore, Asus's chief executive Jerry Shen sat down for an interview, which you can see below, and confirmed that Asus will be moving away from Intel's chipsets for the mid-tier segment, and embrace Qualcomm's Snapdragon 615 processor instead.
While it wasn't clear if that means the Zenfone 3, or the
enhanced Zenfone 2
rumored for later this year, from the way the CEO explains it below it came out that Asus will keep using Intel's platform for its top-shelf handsets, while the midrange will be occupied by Snapdragon 615, which makes more sense.
This means it won't be only Lenovo left out as the Intel stalwart in the world of Android phones, and, hopefully, we can still expect a great value-for-money from the upcoming Zenfone 3, just as it happened with the Zenfone 2, and its Atom ticker.