"Funny Girl" Barbara Streisand confirms Siri update
11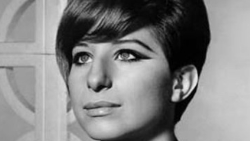 Last month, we told you that Barbara Streisand had revealed in an interview that
she had spoken to Apple CEO Tim Cook about the way Siri would say her name
. The voice-activated virtual personal assistant pronounced the star's last name as Strei
z
and, which apparently was driving her crazy. During an interview on NPR, Streisand mentioned that she had spoken with Cook and the executive promised her that a software update dated September 30 would make the change.
Well, it appears that the update has already been made. A tweet sent out by Streisand a couple of hours ago reads, "@Tim_Cook @Apple - Hearing Siri say my name correctly is music to my ears! Many thx, Barbra."
With Apple set to hold its annual September event tomorrow, it looks like things are going on behind the scenes as iOS 10 gets ready to be rolled out shortly. By the way, unless you're a big internationally known superstar, you probably aren't going to get access to Tim Cook. So if Siri pronounces your name wrong, you either will have to live with it, or change your name officially to match Siri's pronunciation.

Siri can now pronounce Barbra Streisand's name correctly
source:
@BarbraStreisand