Funny BlackBerry PlayBook comic with RIM's Mike Lazaridis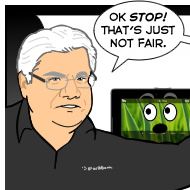 We told you recently about RIM co-CEO Mike Lazaridis'
issues with interviewers
. First, while being interviewed by the
New York Times
, he lashed out, asking why people didn't appreciate all the progress they've made over the years. Then, with the BBC, he stormed out of an interview when the correspondent asked him about their
security issues
in India and the Middle East.
While the
BlackBerry PlayBook
has been eagerly awaited by consumers and RIM shareholders, early reviews are mixed. And the clever little comic below captures RIM's recent mood fairly well.
While we suspect it might be tacky to jab a CEO this directly, we think the comic captures a pretty serious problem with RIM right now
. Mike Lazaridis is surely worried about losing ground to Android and iOS, but he can't afford to let his frustration show. What would happen if a nation's leader visibly panicked every time there was a problem with the economy? The economy would get even worse. In the same way, Lazaridis needs to exude some optimism before his attitude frightens away the shareholders.
source:
The Joy of Tech
via
Wall Street Journal