Fully assembled Apple iPhone 5 pictured side to side with older siblings
99+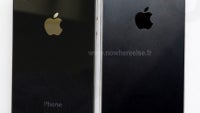 The Apple iPhone 5 is expected to be the biggest redefinition of the iPhone since it launched way back into 2007, changing our perception of what's a smartphone. For the first time in five years, Apple is expected to bring an iPhone with a larger screen, but it seems that the outrageous demand that everyone expects will face not so stellar supply.
Sharp, one of the three companies responsible for manufacturing the iPhone screen, has encountered "manufacturing difficulties" and lacks a timetable for the shipment of the displays. This could turn out to be a big issue for Apple as Sharp is one of only three display manufacturers that Apple has contracted. The other two are LG Display and Japan Display, and it seems they might need to make up for Sharp's slow manufacturing start.
Meanwhile, another day brings us another leaked picture of the alleged
iPhone 5, this time side to side with the its older siblings
.
It's taller, the camera is at the center, but otherwise they look almost perfectly identical. We know, though that the back is where the difference should be. Apple is unveiling the new iPhone on September 12th, the date we're all waiting forward to to put all these rumors to rest.
source:
Nowhereelse.fr
,
Wall Street Journal
Recommended Stories