Full version of Angry Birds to wing its way to Android Market in a matter of weeks
6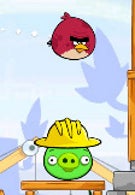 Ok, the beta version of Angry Birds has you hooked. So far you have been able to avoid a confrontation with your boss, spouse, kids and friends, hiding away for a few minutes while you aim your slingshot with its winged payload. But after you have successfully completed all of the 15 levels of the game, now what do you do? The answer should be coming in a matter of weeks when Rovio introduces the final version of Angry Birds to the Android Market.
The game developer, in a short interview, confirms that it should be only 2-3 weeks until the release of the full version for Android. Rovio pointed out that the game does not support QVGA displays which is why Angry Birds is not available for the HTC Wildfire. It does run on the Hero, but with a significant lag.
There is no such thing as a free lunch. In the App Store, the full version of the game will cost you 99 cents, so be prepared to reach into your pocket to feed your Angry Birds addiction.
source:
TalkAndroid