Fujitsu Arrows F-07D measured 0.26" at the FCC, proves Android catwalk can lead to anorexia
10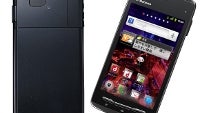 Move over,
Motorola DROID RAZR
, you've been served. The Fujitsu Arrows F-07D just strutted its stuff around the FCC catwalk, revealing a 0.26" (6.7mm) thin body, thus nailing the "world's thinnest smartphone" title.
The Japanese were evidently annoyed when the DROID RAZR was claiming it, despite the camera bulge at the top. The Fujitsu Arrows F-07D has its own thickest parts, where it is 8.5mm, and that's still less than stalwarts like the iPhone 4S, which is 9.3mm throughout.
It is one of the phones in the newest NTT DoCoMo crop, sports 4" OLED screen, 1.4GHz Qualcomm Snapdragon, 5MP camera and is, of course, waterproof, as has become customary in Japan.
via
SlashGear