Front plate for the next iPhone pictured as production begins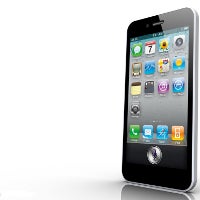 Tired of next-gen iPhone leaks? No? Then here is another one
– a photo of what is said to be the front glass plate of the iPhone's next iteration. What we seem to have is the part's black version, and what looks like a white variant is actually the other side of that same component. The front plate, if genuine, suggests that the device will indeed have a larger display with a wide-screen aspect ratio. Furthermore, a closer inspection reveals another change that we are likely to see once the smartphone is announced.
We are talking about the front-facing camera, which is expected to be moved to the center of the next iPhone's front side, right above the earpiece.
The positioning of the front-facing cam is not as exciting of a change as the fact that it is likely to support HD video,
which, if true, would be a welcome upgrade. After all, those FaceTime chat would surely look much better in 720p. As far as the screen is concerned, it is believed that it will measure 4 inches in diagonal and its resolution will be boosted to 640 by 1136 pixels. This will add space for another row of home screen icons and will provide a display aspect ratio of 16:9.
Of course, we have no way of confirming that the component really belongs to the next iPhone, so who knows, it might just be a fake. Oh well, guess we'll know for sure later this year, once the next-gen iPhone is announced. If rumors are to be trusted, that is likely to happen in September.