Fring scales up its 4-way video chat app for the iPad screen, no need for Facetime now
2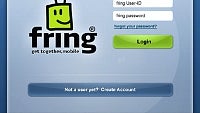 Fring is one of our favorites when it comes to effortless remote communication, and not only because of its
4-way video calling feature
, but also because its prices for calling landlines and mobiles worldwide are second to none. Skype is way more popular, but way more expensive, too.
Now Fring released a tablet version of its app, scaled for Apple's iPad resolution, making those 4-way video calls way more appealing than before. When you consider Facetime's one-person-at-a-time-only rule, and the inability to chat over cellular connectivity, it's falling way behind Fring in many respects.
If anything, it's apps like Fring that could turn the carriers in mere dumb pipes for cellular data connectivity. Video chatting with three other people at once, while lying on the couch at home was something previously reserved for sci-fi movies, or, recently, boardrooms with expensive equipment.
And here we have a free app, with pretty tablet-optimized interface that offers this, and a full suite of messaging features to boot, plus the ability to call for free or cheap worldwide. Gotta love technology.
source:
Fring
via
Engadget