French man gets QR code tattooed to his body
12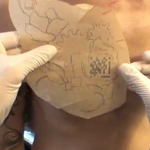 A French man named Marco has taken the idea of a
moving billboard
to another level by allowing his chest to be tattooed with a QR code that links to an animated cartoon. In exchange for money, Marco allowed the entire process to be webcast live over the web site of
Ballantine's Whiskey
.
The art work was done on June 16th at the Mystery Tattoo Club by a famous Paris based tattoo artist, Karl Marc who goes by the name of K.A.R.L. Those watching on the Ballantine Facebook page were able to
post suggestions in real time
. After he completes the job, Marc puts an Apple iPhone over his client's chest to check the link to what he calls "the first animated tattoo".
We can see some real potential for this. Someone with a chronic illness or disease could have a QR code that links to his medical records and current list of medications. All that a paramedic would need would be a smartphone to
quickly get access
to an unconscious patient's medical history. Of course, there is the little matter of getting the QR code tattooed to your body, but that doesn't bother anyone, right?
source:
CNET