French court to rule on Samsung's request to ban the iPhone 4S on December 8th
25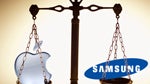 Samsung has asked for injunctions against the new
iPhone 4S
in several European countries, and they will get an answer fairly soon in at least one of them. A French courtroom has set a date of December 8th to rule on the request. This will not be a ruling on the validity of Samsung's patent lawsuit, just whether there are sufficient grounds to award Samsung an injunction against Apple for the duration of the legal proceedings.
An injunction would prevent Apple from selling phone until the court could decide on the validity of Samsung's claims, at which time either Apple would be cleared, or a permanent ban would be placed. A permanent ban could be overcome by either modification of the product to avoid use of the offending patents, or by securing a license agreement with Samsung for the patents in question.
Samsung is also facing several lawsuits by Apple, and presumably wants to be able to negotiate a cross-licensing agreement that would produce a truce in their legal affairs. A preliminary injunction can provide extra leverage in such negotiations, although a company that thinks it can win or avoid the patents may take the initial sales hit. Samsung recently
modified its Galaxy Tab 10.1
to comply with a ruling by a German court.
Apple would not be able to easily modify the iPhone 4S, as the patents in question are necessary for 3G connectivity. For this reason, Apple has been invoking a
FRAND defense
against Samsung; FRAND laws require that companies with patents that enable industry standards must make their patents available to a company at a reasonable cost.
According to patent law observer Florian Mueller the French court appears sympathetic to Apple's FRAND claims, so he believes Apple has a better than even chance of avoiding an injunction in France.
source:
FOSS Patents
via
electronista