French carrier stirs the beehive with unlimited everything for $25 a month, no contract needed
3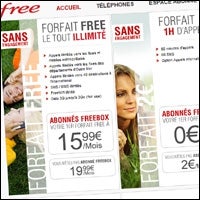 Thanks to offloading traffic onto its existing Wi-Fi hotspot and femtocell network, the French broadband provider Illiad and its Free Mobile brand, were able to break the mould of expensive talk and data plans, offering all you can eat talk and text for 20 Euro, about $25 a month. This fee includes
unlimited data
, too, although after 3GB a month your usage becomes throttled.
Best of all, the offer doesn't require any contract, just pay as you use it, which is partly made possible by the fact that the Free Mobile shuns the heavy subsidies carriers are shelling for phones like the iPhone 4S, offering for example the Galaxy S II full price, or on one or two year installments for the device only.
Up until now you have been cash cows. Now you can either call your current operator and ask for the same price, or join us.
" We don't know what coverage the network offers outside big cities, or how will the rest of the French carriers react, but free calls to 40 countries, unlimited text and MMS, plus 3GB of data for $25 a month sans contract sounds like a good deal while it lasts.
France is the second biggest mobile market in Europe after Germany, so there is plenty of room for Free Mobile to sign up subscribers - the deal markets itself, as they say.
source:
WSJ