FreeFly881 is a free calls & global phone book app for Android and iOS
2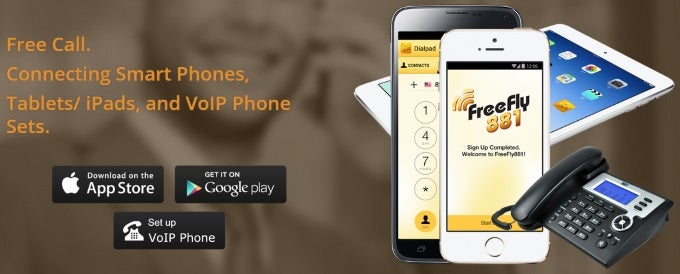 FreeFly881 is an app designed for businesses - no matter if you are incorporated, or a part-time babysitter - to make free voice calls globally. Its creators picked up the consumer-friendly philosophy that voice calling should be free nowadays (thanks to data networks), without roaming fees and limited plans. Thus, FreeFly881, which runs on iOS and Android devices, lets you do just that. It is designed as a Yellow Pages directory book of sorts, only with the option to call a number right away, for free. There's no invite and accept process. If you are inside the system with your unique FreeFly phone number, you can be reached. And if you don't feel comfortable registering your actual phone number, FF can generate a random number for you.
Registering works with your phone number (which receives a 881 prefix), Facebook, Google, LinkedIn, and Twitter accounts. FreeFly contacts can look you up by your profile information, actual phone number, or random FreeFly number. It goes without saying that your FreeFly contacts must have a FF account/number, and the app installed on their devices.
That's basically it, but you probably have some questions here, so let's try and answer those ahead. First, FreeFly881 is completely free - no ads, no in-apps, nada, zilch. The company believes in free sharing and building a global virtual phone network. Now that's something everyone can enjoy! Furthermore, FreeFly supports VoIP phone sets, which makes it convenient for offices, but you absolutely cannot call landlines or cellular numbers, and can't make emergy calls. Finally, you might ask "what's the point of no roaming charges if I'll be using expensive overseas data plans". Well, FreeFly881 supports 2G/3G/4G, and Wi-Fi, so if you can find a trusy free Wi-Fi hotspot in your whereabouts, you'll be making no-cost business calls like a literal boss. There you go!
In addition to the functionality above, each user gets a 10 voicemails inbox, the ability to record voice calls, Silent Hours (a do-not-disturb mode) and Exception (a list of users who can disturb you in non-disturb mode).