France wants to fine Apple 1 million Euros for each iPhone not unlocked
58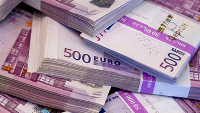 With
the high profile legal impasse between Apple and the U.S. government
over the latter's demand that Apple unlock a dead terrorist's iPhone, France is preparing for a similar situation. But the country is taking a different tact than the U.S. Looking to hit Apple right where it hurts, France is looking to put in place a fine of one million Euros ($1.08 million USD) for each iPhone unit not unlocked by Apple after being requested to do so by the French government. Just the other day, Apple was the beneficiary of a positive court ruling that said
the U.S. government could not use the All Writs Act to force Apple to unlock an iPhone owned by a drug dealer
.
Last year, there were eight smartphones that belonged to alleged terrorists that the French government could not get unlocked. This created a backlash in the country against phone manufacturers like Apple and Samsung. We should point out that the one million Euro fine would apply to Google as well as Apple if the former fails to unlock an Android phone after being requested to do so by a French court.
In the case involving the
Apple iPhone 5c
used by San Bernardino Terrorist Syed Farook,
the only way Apple can comply with the court order would be to build a new version of iOS
. Dubbed "GovtOS by Apple, this new software would allow the phone to be unlocked by Apple. Another avenue that Apple could have used, backing up the phone to iCloud over Wi-Fi, would have yielded the information sought by the government. However, the San Bernardino Department of Health, the owner of the iPhone used by Farook, changed the Apple ID of the device at the behest of the FBI. Without the ID, Apple could not use this method to give the government what it wants.
"We are faced with a legal vacuum when it comes to data encryption, and it's blocking judicial investigations. Only money will force these extremely powerful companies like Apple and Google to comply. They are hiding behind a supposed privacy protection, but they're quick to make commercial use of personal data that they're collecting."-Yann GalutFrench Socialist MP
Last week, it was revealed that three days after the attack that left 14 dead,
Apple turned over to the government parcels of information requested by law enforcement agencies
.
source:
TheLocal.fr
via
SlashGear