Foxconn seeks to fully automate its factories
21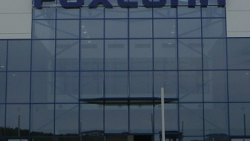 The general manager for Foxconn's Automation Technology Development Committee is a gentleman named Dai Jia-peng. According to Mr. Dai, the iPhone assembler is looking to fully automate its factories in three stages. First step will be to replace human workers with robots on tasks deemed dangerous, or for jobs that humans are not willing to do. The second phase will be to automate assembly lines in order to actually decrease the number of robots used.
By the time the third and final stage is underway, factories will have very minimal human involvement. Humans will be handling things like logistics, testing and inspection, and production. Some of Foxconn's factories are already in the second and third phase.
Foxconn currently employs 40,000 in-house produced Foxbots. 10,000 of them can be built by Foxconn each year. Even with the increasing use of robot workers, Dai says that they can never totally replace humans because unlike robots, people can quickly learn how to change tasks. Robots need to be re-programmed every time they have a new job to do.
Right now, Foxconn has 10 assembly lines that are completely automated. These lines are building LCD monitors, PCs and all-in-one devices. There is no word on whether Foxconn plans on using robots to build all or part of the Apple iPhone.
source:
Digitimes