Foxconn puts an end to illegal iPhone X assembly overtime
6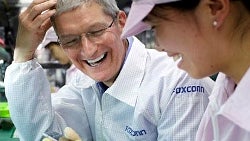 After a Financial Times investigation, news spread out that
Foxconn
is doing what many a Chinese manufacturer are doing - employing student interns who "voluntarily" work above the legal daily limit for their positions. It just happens that Foxconn is the company that does a lot of things for Apple, including the iPhone X, so the interns pulled 11-hour shifts at times, assembling hundreds of TrueDepth camera kits, so that early adopters can have a shot at Apple's latest and greatest.
In China, students often have to undergo "work experience" training for three months before they are allowed to graduate, which takes them to strange places, like working long hours at a Foxconn assembly plant for modest pay. Needless to say, the sheer amount of publicity that these slave internships got,
made Apple look into the matter
, and in a few short days the issue seems to be resolved, as Foxconn took "
immediate action to ensure that no interns are carrying out any overtime work
." Apple also chimed in on the teapot tempest:
Apple is dedicated to ensuring everyone in our supply chain is treated with the dignity and respect they deserve," the firm said in a statement. We know our work is never done and we'll continue to do all we can to make a positive impact and protect workers in our supply chain.