Foxconn CEO quits for health reasons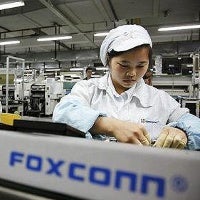 Foxconn is the Chinese manufacturing plant so huge that it makes electronics for virtually all the big names in the tech industry you can think of, and most notably Apple. The huge plant is now undergoing change at the top management level as chief executive Terry Chang resigned for health reasons.
Company vet Calvin Chih will step in as an interim chief executive until the board approves him as a permanent replacement for Chang. Now, Chih will take over Foxconn International, the part of the firm struggling with lower orders from Nokia and RIM, while overall Foxconn gets more orders from Apple.
Does this mean a lot for you as an end-customers? The answer is likely not - Foxconn is a well-oiled machine depending on thousands of Chinese workers making gadgets and it's famous for its ability to boost capacity by the thousands almost overnight.
We also wish former exec Chang a safe recovery - he was at the head of the plant for less than 7 months, getting a comparatively very modest salary of just short of $120,000.
source:
Cellular-news
,
Bloomberg