Four Apple iPhone assemblers working for Pegatron die; 15 year-old among the deceased
36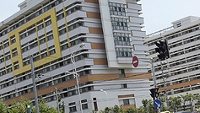 According to a published report in Wednesday's
Wall Street Journal
, four workers at a Pegatron manufacturing facility in Shanghai have died. This is the factory where some Apple iPhone units are manufactured. One of the deceased was an underage 15 year old named Shi Zhaokun. He had used fake identification that showed his age as being 20, and managed to get the job in September. One month later, he contracted pneumonia and died. Labor groups blamed Shi's death on long working days and overcrowded living conditions.
The Pegatron plant in Shanghai employs 100,000 factory workers and the company has confirmed the deaths of four workers. Both Apple and Pegatron concluded after investigating, that the deaths were not related to work or working conditions. Apple has been under attack from human rights organizations complaining that underage employees are being hired and factory workers in general are being pushed to work overtime under poor working conditions.
Shi, who succumbed to pneumonia at 15 years old, was pronounced healthy after a physical in September. Apparently a month of working 12 hour shifts lowered his resistance greatly. Most Chinese factory workers are accustomed to long hours and seek out overtime. When Pegatron cut overtime in October as orders slowed, 20,000 factory workers quit.
Apple has had a harder time monitoring working conditions since shifting some production of its devices from Foxconn to Pegatron to diversify.The factory in Shanghai had to quickly double the number of workers to 100,000 as production of the
Apple iPhone 5c
started. This quick expansion led to cramped working and living conditions in the facility.
Despite claiming that Shi's death was unrelated to conditions at the factory and was not the fault of the company, Pegatron offered his family 90,000 yuan ($15,000 USD) as compensation for his death. The family rejected it as being too low. In the U.S., this case would be an attorney's dream. A young man, hired illegally, contracts a fatal illness after working 12 hour shifts in a cramped factory that is overcrowded. Most lawyers would drool at the prospects of a trial against a pair of deep-pocketed defendants. There is no word on whether or not Shi's surviving family will take legal action against Pegatron, Apple or both firms.
source:
WSJ