Founder of $250 million SwiftKey traded his startup shares for a bicycle
6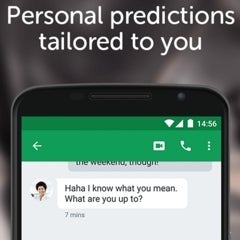 When
Microsoft announced
that it is acquiring a few square inches of virtual keyboard for the princely sum of $250 million, a lot of eyebrows were raised, until people remembered that
the creators of SwiftKey bag one-of-a-kind predictive AI algorithm
, and that might be exactly what Microsoft was gunning for with the acquisition.
One of those creators, Chris Hill-Scott, came on board in 2008, and together with Jon Reynolds and Ben Medlock, both millionaires now, started imagining those same predictive behavioral algorithms SwiftKey became famous for. Two months later, though, a startup was still a startup, and Chris realized he is putting in endless hours of work with little to no pay, and no guarantee for success in sight.
He decided to call it quits, and traded his founding shares in the company for what obviously amounted to a good deal at the time - a bicycle. The founders, who were also his friends from school, parted with him on good terms, and the rest is history. If there is some moral to the story, it's that biking around is healthier than sitting down and coding all day, no doubt.