For faithful oligarchs only: of course there is Galaxy S7 custom edition with a Putin portrait
7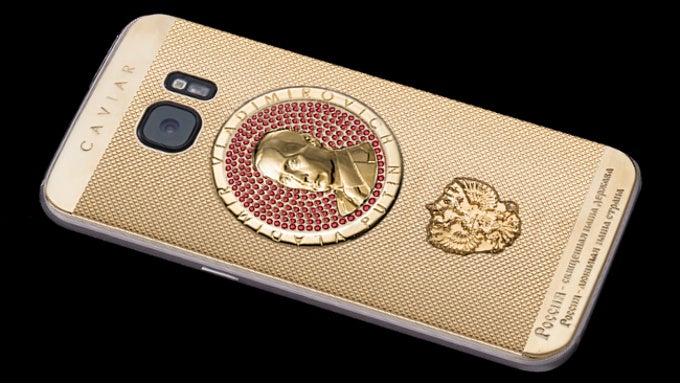 The smartphone world had a brilliant idea a few years back in time: let's make high-end smartphones look good and feature a truly premium design.
The iPhone 6s family has it with its likable color selection and fine aluminum finish, the Galaxy S7 series also has it with its solid metal frame and beautiful tapered glass back, and these days even the affordable phones are getting solid metal bodies and a refined look.
So there is no sane reason to spend crazy money on top of the price of the existing phones, even for lovers of premium design.
Goes well with pockets full of oil dollars
However, if you have a pocket full of oil dollars or are just an eccentric that finds joy in having the portrait of Russian president Putin on his phone for whatever reason, now you have just what you asked for: an obscenely priced, 'premium' version of the Galaxy S7 with Putin engraved on the back of the phone.




The phone is made by Caviar, a company that specializes in this kind of phone customization, and it's not their first Putin-phone (meaning there is demand for these things). You can get the super-premium Samsung Supremo Putin Rubino adorned with 190 ruby stones for the modest sum of $27,100 (1.79 million roubles). And you can rest assured that you'd be one of only three people in the world to own such a phone.




Then, there is the yellow gold Samsung Supremo Putin at the much more affordable $2,600, and a white gold model going for some $2,400.




Finally, there is a traditional Russian Khokhloma painting (the model is called Ornamento) phone selling for $2,250.




But that's a drop in the ocean for an oil oligarch like you, because who else would buy this, really?